Babies of depressed mothers may develop infantile depression and engage less with people and their environment. In the extreme, they may even fall off the growth curve. Children of chronically depressed moms may have difficulty forming close relationships throughout life. Also, children with depressed moms may be drowsy, passive, more temperamentally difficult, irritable, less able to tolerate separation, and more afraid or more anxious than children of nondepressed mothers. Because depressed moms don't talk as much to their babies, don't use "motherese," and are less responsive to their babies' cues, these children can experience language delays as well. The good news: Symptoms in children can be reversed if maternal depression is treated.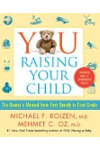 Continue Learning about Living With Depression

Living with depression can feel like a challenge, but with the right tools, you can learn to successfully manage your condition. It's important to follow the recommendations of your primary healthcare provider, take any depression ...
medication as prescribed and utilize the social supports around you. It's also important to eat well, get enough sleep, exercise and keep track of your depression symptoms.
More