Research shows that your chances of re-experiencing depression increase with each depressive episode. That is, the more often you experience depressive episodes, the more likely you are to experience another. Fortunately, research also shows that recovery from depression is possible, and very likely, if you continue to keep up the new habits you've formed to counter the depression and, if necessary, continue the professional treatment you've found for your depression.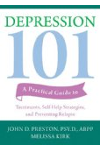 Continue Learning about Living With Depression

Living with depression can feel like a challenge, but with the right tools, you can learn to successfully manage your condition. It's important to follow the recommendations of your primary healthcare provider, take any depression ...
medication as prescribed and utilize the social supports around you. It's also important to eat well, get enough sleep, exercise and keep track of your depression symptoms.
More