You are the only one who knows whether or not you will be able to work with a particular therapist. During your first phone call or your initial session, if you feel uncomfortable with the therapist's demeanor, personality, or approach, it's in your best interests to bring this up immediately with the therapist. Your discomfort might be a sign that the therapist is ready to challenge you to change for the better. On the other hand, it might be a sign that you will be unable to relax and let down your guard with the person, which may impede your treatment. If you believe that it might be difficult to work with him or her, it's okay if you decide not to see that particular therapist.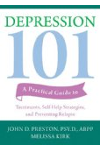 Continue Learning about Living With Depression

Living with depression can feel like a challenge, but with the right tools, you can learn to successfully manage your condition. It's important to follow the recommendations of your primary healthcare provider, take any depression ...
medication as prescribed and utilize the social supports around you. It's also important to eat well, get enough sleep, exercise and keep track of your depression symptoms.
More