There are a number of physical cues that depressed people should be aware of, as it's important to understand how you present yourself to the world.

Eye contact: How often, in general, do you look into other peoples' eyes when you talk to them? How long do you meet their eyes? What causes you to shift away from eye contact? How does it feel to make eye contact? When do you start to feel uncomfortable? How long do other people tend to look into your eyes, and do those people seem comfortable making eye contact with you?

Body position: How do you tend to position your body in relation to other peoples' bodies? Do you face them squarely, with your shoulders and hips both at the same distance from the other person? Or do often angled your body fully or partially away from the other person?

Hands: What do you do with your hands when you were interacting with another person? Do you put them into your pockets, play with your hair, touch your face, or let them hang by your sides? How do you feel about what your hands were doing? Do you ever notice feeling nervous about what to do with your hands?

Head: What do you do with your head? Do you completely face the other person, or do you angle your head away from him or her? Do you tilt your head? Do you find yourself looking at the ground or at a place lower than the other person's face?

Facial expression: What do you notice about your facial expression? Do you smile most of the time, or do you have a neutral face or a frown? If you smile, is it real or forced? Do you observe yourself clenching your jaw? How do you feel about your staying connected with others facial expression? Do you ever notice yourself trying to change it in order to seem happier or more relaxed than you really felt?

Voice: Do people ask you to repeat yourself because you speak too softly to be heard?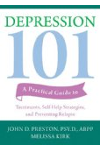 Continue Learning about Living With Depression