When things don't go as planned, your initial reaction may be to give up. Instead of giving in to pessimistic thinking, focus on actively noticing your thoughts as they occur. Say them aloud or write them down. Don't fight your thoughts. Simply see them for what they are: just thoughts—not a reason to give up or sink into hopelessness and depression.
Are you holding onto a grudge? Saying "I forgive you" and meaning it—even if you only say it to yourself—can help you heal.
What are you grateful for? Answering this question each day and writing it in a gratitude journal can support your depression recovery. Studies show that seeing the world through the rose-colored lenses of gratitude can boost feelings of life satisfaction and overall well-being. Fifteen minutes of daily gratitude can dramatically decrease stress hormones in your body.
The perfectionist in you may see things as purely black or white (i.e., you're either a success or a failure, with nothing in between), but as you work on mental-health recovery, try to accept that nothing's perfect, including you.
Ask your therapist or counselor about more ways to build resiliency and optimism.
A belief in your ability to have some control over stressful events will likely have positive effects on depression. It has abeen found that viewing change or a stressful event as a positive challenge reduces depression. The concept of "hardiness," the capacity to maintain a sense of control while looking for the positive in significant stressors, has been correlated with reduced illness, better psychological adjustment, and higher quality of life in addition to protection from depression. If you believe you can find the gifts in your depression and have some measure of control over your symptoms, you have more power to recover rapidly.
Below is a "cheat sheet" of common beliefs you might consider challenging:
I need to be in control of everything, all the time.
No one will like me if I show them how I really feel.
I can't say no.
It's easier to just say yes than to set limits.
I'm afraid of change.
Everything has to be a struggle.
I should only feel loving and caring in intimate relationships.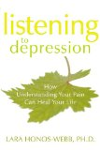 A psychotherapist can teach you how to change negative patterns of thought and behavior that may be adding to your depression. This kind of "talk therapy" is called cognitive behavioral therapy (CBT).
Keeping your mind occupied through exercise or mental activities can help short-circuit harmful thoughts, shifing your mind from emotional to cognitive function, says Tarique Perera, MD, a psychiatrist with Contemporary Care of Connecticut.
According to CBT researchers, some of the thinking patterns that can contribute to depression include the following:
Overgeneralization: Jumping to negative conclusions about situations based on limited information, such as "Nobody at this party likes me."
Black-and-white thinking: Seeing everything as either bad or good, with nothing in between; for example, "Nothing good ever happens to me."
Catastrophizing: Anticipating the worst in every situation; for example, "I know I'm not going to get this job."
Discounting the positive: Downplaying anything positive that does happen, such as "I bet my boss just complimented me because she's buttering me up to do some extra work."
"Should" or "must" statements: Setting unfair rules for yourself and others, such as "I must always look perfect" or "People should never lose their temper."
Repetitive automatic thoughts: Having thoughts, often subconscious, that your mind automatically generates in response to familiar situations—thoughts that are often rooted in past experiences or faulty beliefs about yourself. For example, on seeing an attractive man at a party, one type of automatic thought might be "Why bother trying to talk to him? I'm too boring to interest someone like him." Other examples of automatic thoughts might include "I don't deserve to be happy" or "I'm incompetent at everything I try to accomplish."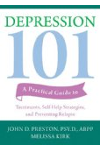 Continue Learning about Living With Depression