The nature of your depression symptoms gives you clues to how to change your life. The more blue you feel, the more changes you can expect. The area of your life most affected by the depression will be the area of your life most in need of change.

As a general rule, you can expect that the intensity of the symptoms will mirror the intensity of the message that requires your attention. The more serious the depression, the more urgent the message is to be heard. The farther a person has come from his or her own nature, the more urgent the message to get back on track. Alternatively, a person suffering a low-grade, temporary depression may simply need to do some problem solving rather than overhaul everything. For example, an artist fulfilling her true calling may find that she really wants to switch from painting to sculpting. The changes indicated in her depression are less dramatic than those an artistically talented person might need to make if she were working in a computer programming job. Therefore, if you find yourself with a mild depression and yet feel a sense that you are on the right track, you may need to make only some minor adjustments, which will lead you to even more fulfillment.

In a similar way, you can examine your symptoms for clues about what part of your life they are pointing toward. If, for example, you find that you have lost interest in all of your friendships but not in your romantic partner, this may indicate that you need to examine the area of your life that includes your circle of friends. If your loss of interest pertains only to your professional life, then that is likely the domain that needs deep reflection so you can increase your awareness of current problems. By tracking the intensity of your symptoms and the area of your life where your symptoms are most disruptive, you can gain clues about the extent of the changes that are needed and the area of your life that requires the most attention.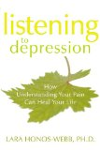 Continue Learning about Living With Depression

Living with depression can feel like a challenge, but with the right tools, you can learn to successfully manage your condition. It's important to follow the recommendations of your primary healthcare provider, take any depression ...
medication as prescribed and utilize the social supports around you. It's also important to eat well, get enough sleep, exercise and keep track of your depression symptoms.
More