We are often our own worst enemies. If this is true for you, consider changing that by treating yourself as you would a treasured loved one. When you achieve a goal, give yourself a pat on the back; when you're sad, give yourself permission to cry and to reach out for support; when you make a mistake, offer yourself compassion and forgiveness. Make time to enjoy life by doing what you enjoy. Eat well, take care of your health and remember to take time out to laugh and enjoy your life. Do for yourself what you would advise your best friend to do in your situation.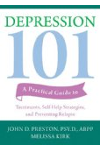 Continue Learning about Living With Depression

Living with depression can feel like a challenge, but with the right tools, you can learn to successfully manage your condition. It's important to follow the recommendations of your primary healthcare provider, take any depression ...
medication as prescribed and utilize the social supports around you. It's also important to eat well, get enough sleep, exercise and keep track of your depression symptoms.
More