When you complete a task, take a moment to congratulate yourself, either aloud or silently. If it's a major accomplishment, such as completing a large project for work or reaching a personal goal you've had for a while, plan a celebration for yourself and your close friends or associates. Be mindful of your tendency to negate your accomplishments or to move on without marking them as significant. How does it feel to celebrate having accomplished something you're pleased with and proud of?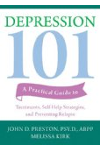 Continue Learning about Living With Depression

Living with depression can feel like a challenge, but with the right tools, you can learn to successfully manage your condition. It's important to follow the recommendations of your primary healthcare provider, take any depression ...
medication as prescribed and utilize the social supports around you. It's also important to eat well, get enough sleep, exercise and keep track of your depression symptoms.
More