Often the people closest to us notice a change in behavior before we do, and in the case of depression, the sooner you nip it in the bud, the more likely you are to avoid another depressive episode. Sit down with the person you chose to help you monitor your depression and share your list of depressive behaviors.

If any of your known triggers of depression have occurred lately in your life, such as a marital or romantic breakup or other major disappointment, or you're feeling rejected or as though you've failed at something, take it as a sign that you need to be extra alert to possible signs of depression. Let your support person know that you need him or her to stay alert.

At the first sign of any of the symptoms on your list, your support person should express concern that you're becoming depressed. Think of a phrase or an approach that you know won't upset you when you're feeling down. For example, perhaps the sentence "I'm really concerned that you are feeling sad again" would be more effective than a flip "You're not getting depressed again, are you?" Give some thought to how your support person can approach you without making you feel defensive.

Once your support person has brought it to your attention that you may be heading toward depression again, if you don't respond by seeking help, then agree to a time frame in which he or she has your permission to seek help on your behalf. One possible time frame might be two weeks. Show your support person where you keep the phone number of your therapist, if you have one, and that of any medical professional who treated your depression in the past. Then give your support person permission to make an appointment for you and to tell your therapist that you may be becoming depressed again.

Be sure your support person agrees to remind you to go to your appointment. Then follow your doctor's treatment advice, and be sure to go to any follow-up appointments.

Write down your agreement with your support person, and make sure you both have signed and dated copies. When you begin to feel depressed, you may "forget" that you had an agreement or you may feel that it isn't important anymore. Having a copy of the agreement will remind you that you agreed to honor it, and you may be more inclined to honor it when you see the agreement on paper.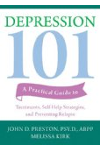 Continue Learning about Living With Depression