A satisfaction prediction exercise, which is a simple reality check, was developed by noted psychiatrist David Burns. Keep a record of this thought pattern in your journal or notebook over the next two weeks and see what you discover. Here's how it works: list the activities you plan to do for the day in the first column, and then rate your anticipated satisfaction level on a scale of 0 to 100, where 0 means that you doubt you'll take any pleasure or feel any sense of accomplishment in that activity at all, and 100 means that you imagine you'll feel very satisfied at having participated. Then, after you've completed the activity, rate your actual level of satisfaction.

Do this for two weeks, and then examine your lists to see if you can detect a pattern. You may find that you got more satisfaction out of doing some activities than you expected to or that there are particular activities, such as socializing with friends, that you tend to want to avoid but that end up actually making you feel better. Armed with this information, you can become more aware of your tendency to withdraw and can then remind yourself that, even if you don't feel like socializing, once you're with your friends, you'll more than likely end up having a good time.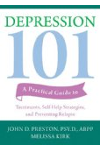 Continue Learning about Living With Depression

Living with depression can feel like a challenge, but with the right tools, you can learn to successfully manage your condition. It's important to follow the recommendations of your primary healthcare provider, take any depression ...
medication as prescribed and utilize the social supports around you. It's also important to eat well, get enough sleep, exercise and keep track of your depression symptoms.
More