Many people who are depressed punish themselves relentlessly, increasing the severity of their depression. One way to turn this around is to practice giving yourself permission. The following exercise will help you identify key areas in which you are restricting yourself unnecessarily.
This first step isn't going to make any sense to you. Don't worry about that. Sometimes nonsense can help you get beyond your rational mind in order to learn things about yourself that are just below conscious awareness. So suspend your rational mind for a moment and get out a journal. Write the following ten times: "If I were not alive I would be able to..." Now, write ten responses to complete the sentence. Don't put too much thought into the answers -- just write what comes into your head.
Review your responses and circle the ones that are the most interesting to you. What have you stopped yourself from doing or being?
Now, in your journal, write the following question: "What do I need so much that I am willing to die for it?" In answering this question, write freely without censoring yourself.
Next, write the following in your journal: "It is difficult for me to give myself permission to because..." Complete this sentence.
Ask yourself: "Whose judgment am I most worried about?" After you have come up with an answer, ask yourself, "Is it worth it to sacrifice my inner life because of what another person or group of people think about me?"
In your journal, write the following at the top of each of five consecutive pages: "I give myself permission to..." Then, without editing yourself, write a different response to that stem on each of the five pages. Review what you have written and consider what changes you can make that would allow you to give yourself more permission. Keep track of how this affects your depression.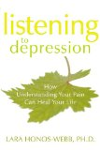 Continue Learning about Living With Depression