Researchers have found that depressed people often see the world in a more realistic light than people who aren't depressed, because they are exquisitely tuned into the negative aspects of situations. This doesn't mean that the world is entirely a negative place. It does mean that nondepressed people may not see the darker side of things and may not appreciate the complex reality of a specific situation. People with depression, though, usually focus on the negative aspects of life to the extent that their outlook on life becomes unbalanced and everything seems gloomy, threatening and hopeless to them. If you tend to focus on the darker aspects of life to the exclusion of the positive aspects, here's a way to use mindfulness to balance out your worldview:

Step 1. Find a private, quiet spot where you will be undisturbed for five minutes or more. Sit in a comfortable position. If you wish, have a journal or paper and a pen handy. Close your eyes.

Step 2. Now think back to when you were younger and had plans, hopes and dreams for the future. Perhaps you remember a time when you were in college and dreamed of owning your own home or of taking a trip around the world. As you remember each of these early aspirations, take note of those goals that you have reached in your life. You might now have a home, a supportive, loving relationship, children whom you love or a career in the profession you've dreamed about ever since you were a teenager. Perhaps you took that longed-for trip the year you graduated from college.

Step 3. As you become aware of each of the dreams that you've achieved, sit for a moment with the knowledge of what you've accomplished. Simply let the sense of pride, satisfaction or contentment that you feel rise up in your mind. Savor that feeling. If other thoughts come up, let them go. If you notice yourself trying to discount your successes (with thoughts like "Yeah, but while I was traveling, my friends all had internships and they're all more successful than I am now"), gently let them go. Such thoughts are irrelevant to this exercise.

Step 4. If you wish, write a list of your accomplishments in your journal. As often as you want to, revisit this list or do this exercise, taking the time to be aware of the dreams that you have achieved thus far.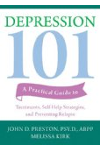 Continue Learning about Living With Depression