Our old friends are our best resources to find new friends. For example, dating experts often suggest that you first ask your friends to introduce you to any single people they know, so why not do this for platonic friends, too? It can be awkward to ask friends to help you find more potential friends, but you can ask them if, when they're invited to parties or other events, they could bring you along. Once at the party or event, make a commitment to yourself to speak to at least three people you've never spoken to before. Or if you've previously met most of the people there, commit to speaking to at least three of them before the event is over. If you meet someone you'd like to see again, whether as a friend or as a potential romantic interest, let that person know and give him or her your phone number or e-mail address. The person may not respond, but it's worth a try, and it's good practice in asserting yourself.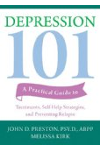 Continue Learning about Living With Depression

Living with depression can feel like a challenge, but with the right tools, you can learn to successfully manage your condition. It's important to follow the recommendations of your primary healthcare provider, take any depression ...
medication as prescribed and utilize the social supports around you. It's also important to eat well, get enough sleep, exercise and keep track of your depression symptoms.
More