In the movie Sideways, the main character treasures a very special bottle of wine that he has saved for a special occasion. The woman he falls in love with tells him that with a bottle of wine like that you don't need a special occasion to drink it. In one of the final scenes, we see him, on a regular day -- in fact, a bad day -- drinking this highly treasured wine out of a plastic cup, in a diner.

This scene offers a wonderful picture of what you need to do for yourself in the depths of depression. Give yourself whatever you need now. Don't save your treasures for some later date. The deeper the depression, the more you need to pull out all of the stops.

You need to listen to your pain and hear what it has to say about healing your life, rather than indulging in comforting behaviors that obscure its message. However, there are situations in which you should defend against the pain -- just making it go away so that you can begin to listen to it.

In severe depression, there is a serious risk with suicidal thoughts and actions: up to 15 percent of those with severe major depressive disorder will die by suicide. It is therefore imperative that you seek immediate relief from the pain you are feeling.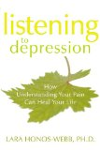 Continue Learning about Living With Depression

Living with depression can feel like a challenge, but with the right tools, you can learn to successfully manage your condition. It's important to follow the recommendations of your primary healthcare provider, take any depression ...
medication as prescribed and utilize the social supports around you. It's also important to eat well, get enough sleep, exercise and keep track of your depression symptoms.
More