There are secondary gains that come with being depressed. In other words, you are rewarded for being depressed in some way. These rewards, or gains, may be fairly obvious. It may be that other people solve your problems for you because they want to protect you from too much stress, or that family members protect you from conflict because they don't want to make your depression worse. Depression may even be giving you an excuse to not go to work.

In other cases the secondary gains may be more subtle. Some clients have discovered that by being depressed they get to show their abusive parents how miserably they failed in their parenting. The best way to prepare for this obstacle is to examine your life for any benefits you may be gaining from being depressed. If you find that you do receive rewards, even small ones, for staying depressed, you should ask yourself whether those rewards are worth the price of staying depressed.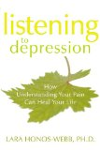 Continue Learning about Living With Depression

Living with depression can feel like a challenge, but with the right tools, you can learn to successfully manage your condition. It's important to follow the recommendations of your primary healthcare provider, take any depression ...
medication as prescribed and utilize the social supports around you. It's also important to eat well, get enough sleep, exercise and keep track of your depression symptoms.
More