There are secondary gains that come with being depressed. In other words, you are rewarded for being depressed in some way. Examine your life for any benefits you may be gaining from being depressed. If you find that you do receive rewards (secondary gains), even small ones, for staying depressed, you should ask yourself whether those rewards are worth the price of staying depressed.
In your journal, make a list of rewards you get from your depression. You do not need to feel embarrassed or ashamed about these rewards. Any behavior, thought, emotion, or condition will have costs and benefits. In this exercise, you are just practicing becoming aware of what the benefits of your depression might be. List as many benefits or rewards as possible.
Choose the three most powerful benefits. Which benefits seem compelling to you? Which benefits would be hard to live without?
As you look at these benefits, ask yourself, "Is it worth it to stay depressed in order to maintain these benefits?" In your journal, write your response to this question. You might be surprised to find that your knee-jerk response is yes. If that's the case, just keep writing and don't censor what you think and feel.
Return to the list of the three most-powerful benefits. Write each one in your journal, followed by the question "How can I get this benefit without being depressed?" Come up with as many answers as possible, even if they don't make sense yet or you can't see how they would really work. For example, one client said that he could obtain the benefit of showing his parents what a failure they were by just telling them that they were miserable failures as parents.
Look at your list of ideas from step 4, and create an action plan to help you work toward achieving these benefits in your life without being depressed.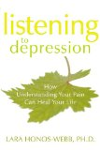 Continue Learning about Living With Depression

Living with depression can feel like a challenge, but with the right tools, you can learn to successfully manage your condition. It's important to follow the recommendations of your primary healthcare provider, take any depression ...
medication as prescribed and utilize the social supports around you. It's also important to eat well, get enough sleep, exercise and keep track of your depression symptoms.
More