Depression predictably results when your fear of admitting to a mistake is so great that you persist in maintaining an intolerable situation. Acknowledging that you made a choice that you would now like to change can free you so you can move your life forward. In your depression, you may berate yourself for your errors. But if you give yourself permission to realize that a wrong choice allowed you to gain experiences you otherwise would not have had, then you can stop beating yourself up and get on with your life.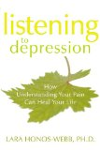 Continue Learning about Living With Depression

Living with depression can feel like a challenge, but with the right tools, you can learn to successfully manage your condition. It's important to follow the recommendations of your primary healthcare provider, take any depression ...
medication as prescribed and utilize the social supports around you. It's also important to eat well, get enough sleep, exercise and keep track of your depression symptoms.
More