Low self-esteem is often rooted in what we perceive as disdain or even criticism from those who don't share our values, and it can be difficult to separate our inherent worth from the negative feedback of those who wish us to be different. The following steps will help clarify your personal values and beliefs, and help you see that you are not dependent on others' opinions of you.

1. First, find a place where you can be undisturbed for at least ten minutes. Take a moment to get comfortable. Begin when you feel calm and centered.

2. Write down the aspects that you feel define who you are, and the values that really matter to you.

3. The pressure to conform or to please other people can be at the root of low self-esteem. In old age, however, many people become more philosophical about life and cease to care as much about what others think of them. For this step, imagine yourself as a very old and try to really feel what it might be like to be at the end of your life. Ask yourself what you're ready to let go of, what obligations can be released, how it feels to let go of others' expectations and judgments and what continues to have value. Write down your answers. Look back at the list of values that you wrote in step two. What's still important to you? Which values seem the most significant and worth adhering to?

4. Now that you've become more clear about your deeply held values and you know what matters the most to you, it's important to realize that this is who you are. Those values are the foundation of the real you, and they need to be nurtured and supported in the same way that a living being would be supported and nurtured.

5. Create a list with two columns. Label the first Those Who Support the Real Me, and the second Those Who Don't Support the Real Me. Take an honest look at the people in your life who aren't able to offer support, encouragement and care to the real you -- the you who is reflected in the list you just created about your true beliefs and values -- and put them on your Those Who Don't Support the Real Me list. Then write the names of the people who do support and nurture your true self in the Those Who Support the Real Me list. Consider how you spend your time and with whom. Then ask yourself what kind of changes you need to make in how you live your life so that you receive more support from those who are already supportive, and so you need and expect less from those who cannot offer you acceptance of your true self.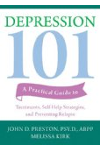 Continue Learning about Living With Depression