There is often an interpersonal component to depression. You may be feeling so bad that you interact with others in ways that discourage bonding. For example, you may speak softly, avoid looking into the other person's eyes, be uncomfortable with normal physical contact, such as putting your hand on someone's shoulder to indicate sympathy, and be more likely to talk about negative or depressing topics. You may then interpret others' lack of interest or empathy as rejection, which can lead to negative self-criticism, such as "People hate me" or "I can never get along with anyone, so there must be something wrong with me." Thoughts like these, of course, make you feel worse and thus less interested in interacting with others, leading to more "rejections."

If you find that this is happening in your life, you'll need to interrupt this cycle by paying attention to how you interact with others, and by practicing the type of interpersonal skills that communicate to other people that you are open, interested, sympathetic and that you have a positive outlook.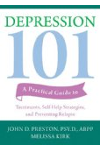 Continue Learning about Living With Depression

Living with depression can feel like a challenge, but with the right tools, you can learn to successfully manage your condition. It's important to follow the recommendations of your primary healthcare provider, take any depression ...
medication as prescribed and utilize the social supports around you. It's also important to eat well, get enough sleep, exercise and keep track of your depression symptoms.
More