It's common for people with depression to simply accept all criticism, either explicit or implied, while rejecting all compliments. If you find yourself buying into criticism without question, take the time to analyze the critical comment. Ask yourself, "Is this statement 100 percent accurate? If not, what isn't accurate about it? What's the other side of this criticism?" Also, consider the source of the criticism. If it comes from someone who doesn't support you, consider that the criticism might be a reaction to you living in line with your own values -- values that the critical person doesn't share. Is it possible that the person is trying to cause you shame or pain? If so, how does this affect the validity of the criticism?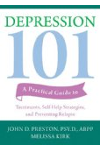 Continue Learning about Living With Depression

Living with depression can feel like a challenge, but with the right tools, you can learn to successfully manage your condition. It's important to follow the recommendations of your primary healthcare provider, take any depression ...
medication as prescribed and utilize the social supports around you. It's also important to eat well, get enough sleep, exercise and keep track of your depression symptoms.
More