If you have been depressed for a long time, it can become a habit that is hard to break. You may have forgotten what it feels like to be not depressed. Paradoxically, healing from depression may be uncomfortable to you because it represents new territory. One way to prepare for this obstacle is to remind yourself that you deserve to be free from this habit and that you would rather be afraid than depressed. Even positive changes will bring with them fear and a sense of losing control. As you bring awareness to the process of changing your life, the choice you need to make between comfortable depression and the unknown will be obvious.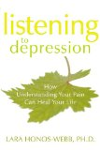 Continue Learning about Living With Depression

Living with depression can feel like a challenge, but with the right tools, you can learn to successfully manage your condition. It's important to follow the recommendations of your primary healthcare provider, take any depression ...
medication as prescribed and utilize the social supports around you. It's also important to eat well, get enough sleep, exercise and keep track of your depression symptoms.
More