It's important to realize that much of our pain is a normal part of life, and that the way through pain is to feel it, rather than hide from it by ignoring it, numbing it through drugs or alcohol or denying its importance. In fact, the way through depression often involves taking a closer look at your painful experiences, opening up to your pain and letting go of the thought that you really shouldn't be so depressed. To finally stop struggling against pain and to acknowledge that life can be difficult and painful is to give up the idea that life should be different than it is. This can be a crucial step in recovering from depression.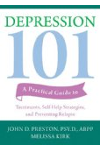 Continue Learning about Living With Depression

Living with depression can feel like a challenge, but with the right tools, you can learn to successfully manage your condition. It's important to follow the recommendations of your primary healthcare provider, take any depression ...
medication as prescribed and utilize the social supports around you. It's also important to eat well, get enough sleep, exercise and keep track of your depression symptoms.
More