Often we get so caught up in the stresses of our lives that we forget to look and see the beauty and wonder that's all around us. Everyone does this, not just those with depression, but depressed people are even more prone to discounting their positive moments in favor of the negative. In this exercise, you'll practice being mindful of the joyful, beautiful, mysterious or just plain silly moments that we all experience every day.

It's easy. Whenever you think of it, stop whatever you're doing (or if you can't physically stop, stop whatever your mind is focusing on at the moment), and become aware of your surroundings or the interactions you're involved in right at that moment. If you wish, you can set an alarm for every few hours, and when it rings, stop whatever you're doing and do this exercise.

To begin, look around you for something positive that you can see, hear, feel, smell or taste, whether it's a tree's leaves turning autumnal red or a child laughing with his mother as they walk down the street. Maybe you just had a wonderful meal, a friend complimented you on your new haircut or traffic is flowing much better than you expected. Just notice the moment, savor it and sit with the feeling for a moment or two. This practice is not meant to be an empty exercise in "turning that frown upside down"; it's meant to help you balance your negative (and sometimes realistic) view of the world with positive input so that you become more balanced in your thinking.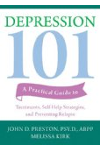 Continue Learning about Living With Depression

Living with depression can feel like a challenge, but with the right tools, you can learn to successfully manage your condition. It's important to follow the recommendations of your primary healthcare provider, take any depression ...
medication as prescribed and utilize the social supports around you. It's also important to eat well, get enough sleep, exercise and keep track of your depression symptoms.
More