Everyone knows that bears hibernate in the winter to survive the harsh conditions and to conserve energy for the springtime. The slowing down and withdrawal of energy that occurs in a depression may also help you to get through a difficult life experience and to conserve energy during a life cycle change. Such a view is consistent with evolutionary theory, which explains the adaptive nature of withdrawal from an environment that is punishing. One evolutionary theory of depression, the behavioral shutdown model, suggests that it makes sense to retreat from any behavior that has high costs and little return, and instead consider a more worthwhile way of investing one's life energy.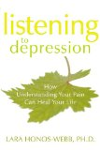 Continue Learning about Living With Depression

Living with depression can feel like a challenge, but with the right tools, you can learn to successfully manage your condition. It's important to follow the recommendations of your primary healthcare provider, take any depression ...
medication as prescribed and utilize the social supports around you. It's also important to eat well, get enough sleep, exercise and keep track of your depression symptoms.
More