After you go through a depression you will be better able to cope with life events. People turn away from difficult inner and outer experiences because they feel overwhelmed by them. A person can face experiences and problems that he feels he can manage. The more complex, flexible, and open a person is, the more he is capable of bearing experiences. Some people cannot bear experiences that they are not fully in control of; for example, people may leave relationships if they find that their partners have a will of their own. Going through a depression may help a person learn to tolerate uncertainty and complexity and give up some measure of control, which allows him to be stronger.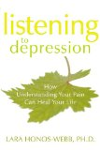 Continue Learning about Living With Depression

Living with depression can feel like a challenge, but with the right tools, you can learn to successfully manage your condition. It's important to follow the recommendations of your primary healthcare provider, take any depression ...
medication as prescribed and utilize the social supports around you. It's also important to eat well, get enough sleep, exercise and keep track of your depression symptoms.
More