If there were a hit parade of the top reasons for overeating, anger, depression, and sadness would be right up there, along with boredom. If depression had a voice, it would say, "Everything is hopeless. What's the point of living?" Its energy is deadly, obliterating every ray of hope in its path. For the ego, the way out of depression is to distract itself with immediate pleasure. The ego's Child (pleasure-seeking impulses) says, "The only thing that would make me feel halfway decent is food. What do I have to lose anyway?" So, reaching for food when depression strikes becomes as predictable as the sun rising each morning. After all, stuffing your depression with sexy pleasure food is the path of least resistance. But you know what it has to offer: a fleeting, nice taste in your mouth and hell to pay afterwards.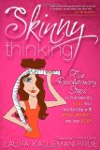 Often people with depression don't eat very well. You might find yourself snacking mostly on junk food or foods high in carbohydrates or fat, and you might find that you don't feel motivated to shop and cook healthy foods. Since foods high in carbohydrates often provide a temporary elevation in mood, many depressed people choose these foods as a way to try to feel better. Some people with depression stop eating much at all. But your brain needs the right kinds of nutrients in order to function well, so one way to begin to feel better is to make sure you eat right.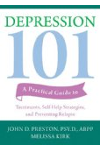 Continue Learning about Living With Depression

Living with depression can feel like a challenge, but with the right tools, you can learn to successfully manage your condition. It's important to follow the recommendations of your primary healthcare provider, take any depression ...
medication as prescribed and utilize the social supports around you. It's also important to eat well, get enough sleep, exercise and keep track of your depression symptoms.
More