Low self-esteem can cause you to allow your life to go off track and lead to depression. Perhaps you don't feel good enough about yourself to follow your real interests and passions. For instance, there are individuals who do not pursue passionate love interests because they do not feel they are good enough for the other person, and there are those who do not pursue their real talents and gifts because they don't think they are good enough to succeed.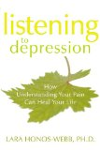 If you feel occasional low self-esteem, it may be tied to hormonal changes during menopause. Stronger feelings of worthlessness can be a symptom of depression. It is important to talk to your doctor about these feelings and together monitor any significant changes in your emotional health and well-being.
Depression is often repressed anger that has been turned inward against yourself. So if you are angry at somebody else and then deny your feelings, the psyche can turn your anger inward on yourself. For this reason, depression can often be treated effectively by counseling where one learns to be aware of and express their feelings openly. That these problems can also be treated with medications is simply one more example that most physical illness (if not all) is both physical and psychological.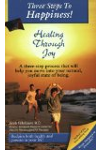 More About this Book
Three Steps to Happiness! Healing Through Joy
Happiness is our natural state of being. It is who we are. This happiness is obvious when you look at little children before they take on society's beliefs. Their natural state is to feel all of...
Depression saps self-esteem, leaving the person with depression feeling incompetent, unworthy and unable to see his or her own innate value as a human being. Often, the most painful part of depression is this deep sense of knowing that you are inherently unworthy at your core, and that the people in your life who say that they believe otherwise are obviously misguided. However, it's important to remember that depression can warp your thought processes so that you believe things that are absolutely untrue. The good news is that these self-destructive thoughts and thought patterns can be turned around—as long as you are aware of how they operate.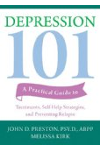 Continue Learning about Living With Depression

Living with depression can feel like a challenge, but with the right tools, you can learn to successfully manage your condition. It's important to follow the recommendations of your primary healthcare provider, take any depression ...
medication as prescribed and utilize the social supports around you. It's also important to eat well, get enough sleep, exercise and keep track of your depression symptoms.
More