Depression often leads people to isolate themselves and keeps them from reaching out and connecting with others. If you're depressed, it may feel scary to be with people; it may feel as if you're opening yourself up to rejection. Or you may feel as though you just don't have the energy to go out and engage in small talk and to laugh at what others laugh at when, internally, you're feeling so awful. You might feel as though you would have to fake it, even to consider going out to be with other people—that you'd be lying to yourself and others. But, not surprisingly, having a consistently active social life can alleviate some of the pain of depression. Humans are social creatures; we've evolved in ways that enable us to connect with one another. Isolating yourself is a protective impulse that actually can worsen your depression. Please don't misunderstand: it's healthy to be comfortable with being alone, and it's essential to have some time for yourself, but too much time spent alone—when you're choosing to be alone to avoid being uncomfortable socially—can be unhealthy and may exacerbate depression symptoms.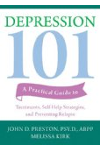 Continue Learning about Living With Depression

Living with depression can feel like a challenge, but with the right tools, you can learn to successfully manage your condition. It's important to follow the recommendations of your primary healthcare provider, take any depression ...
medication as prescribed and utilize the social supports around you. It's also important to eat well, get enough sleep, exercise and keep track of your depression symptoms.
More