Research has shown that helping others can alleviate some of the pain of depression. To find an opportunity to volunteer, look in your local classifieds in the newspapers, browse the bulletin boards at the local library or grocery store, look in the phone book or go online. You can just type "volunteer staying connected with others opportunities" and your city or region into your web browser, and see what comes up. You can also call local churches or service organizations in your area and ask if they need any volunteers or if they know of anyone who does. If there are social or political causes that you care strongly about, you can call the headquarters of the political party or a group that does actions on behalf of the cause you're interested in and see if they need help.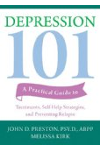 Continue Learning about Living With Depression

Living with depression can feel like a challenge, but with the right tools, you can learn to successfully manage your condition. It's important to follow the recommendations of your primary healthcare provider, take any depression ...
medication as prescribed and utilize the social supports around you. It's also important to eat well, get enough sleep, exercise and keep track of your depression symptoms.
More