There are thousands of online social groups whose members have regular face-to-face meetings, and there are user-maintained interest groups hosted by Google and Yahoo. Just type "Yahoo groups" or "Google groups" into your web browser and follow the links to find hundreds of groups based on shared interests.

Try this exercise. Find one or two online sources for interest groups, then search for groups of people who share your interests. For example, if you love to see all the new movies, search for "movies." If you'd like to play more tennis, search "tennis." At first, just so you won't feel overwhelmed, limit yourself to three or four highly active groups, meaning the group has more than one hundred members and they appear to schedule regular, well-attended outings. Then commit to attending the next outing or event that each group organizes. Make sure you attend at least two events before giving up on a group. Sometimes the people who attend may not be suitable (if you're sixty, you may not be comfortable hiking with a group of thirty-year-olds), but it's hard to know that for sure on your first impression. Give each group at least two tries, but if you decide a group isn't right for you, go ahead and look for another one that might be more to your liking.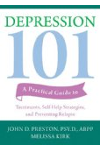 Continue Learning about Living With Depression

Living with depression can feel like a challenge, but with the right tools, you can learn to successfully manage your condition. It's important to follow the recommendations of your primary healthcare provider, take any depression ...
medication as prescribed and utilize the social supports around you. It's also important to eat well, get enough sleep, exercise and keep track of your depression symptoms.
More