People like it when you're interested in them, so stay interested in the person with whom you're conversing. You can keep a conversation going by asking sincere questions about what the other person is saying. Self-disclosure can help people to relax and bond, so when appropriate, be sure to talk about yourself, too, with the two following caveats:

Don't hijack the conversation. Be sure not to turn every conversation around to your experience. If someone is relating an experience to you, rather than saying, "Oh, yeah, that happened to me, too," and then launching into your story, allow others to finish their stories, and then ask questions about their experience.

Keep disclosure appropriate. Make sure you disclose only appropriate information and only at appropriate times. This is basic common sense: Don't talk about your sex life in a business meeting, don't disclose your mother's suicide to a casual acquaintance when you've been talking about the weather and don't bore a table full of people with your entire life story. Make it a point to check the body language of the people you're with to be sure they're interested and listening. If they're not, it's time to give the floor to someone else.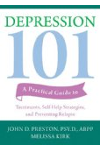 Continue Learning about Living With Depression

Living with depression can feel like a challenge, but with the right tools, you can learn to successfully manage your condition. It's important to follow the recommendations of your primary healthcare provider, take any depression ...
medication as prescribed and utilize the social supports around you. It's also important to eat well, get enough sleep, exercise and keep track of your depression symptoms.
More