For the majority of people suffering from bipolar disorder, their first mood episode is serious depression. If this were the case for you, you wouldn't necessarily know right away that you had bipolar disorder rather than unipolar depression.
Unfortunately, antidepressant medications are risky drugs to use for treating bipolar depression, since they can cause a depressed person to switch from a state of depression to mania, and over time the drugs can worsen the course of bipolar disorder. For that reason, it's important for you to get the right diagnosis so you can receive appropriate treatment.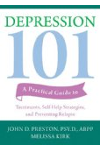 If someone is experiencing a depressive episode, the assumption is usually that it's a unipolar depression (as opposed to bipolar disorder) unless there are really strong indicators of bipolar disorder (for example, the patient has spoken with her family doctor about her mother who has bipolar disorder; or there have been very clear symptoms of hypomania or mania in the past).
The reason bipolar depression is often mistaken for unipolar depression is that people tend to not go to the doctor or seek help otherwise when they're feeling good—i.e. when they're hypomanic—so quite often, people go misdiagnosed as having unipolar depression. In one study done a few years ago, the average person with bipolar disorder went nine years with an incorrect diagnosis!
It can also be very helpful to have someone at the appointment with you to provide collateral information—in other words, to provide another perspective on the changes that happen in you when you're not feeling emotionally well. Of course the doctor will want to know how you experience your symptoms, but having someone else who can provide observations will also help to make an accurate diagnosis.
Finally, just be truthful. Whatever label gets stuck on your problems, they're the same problems you had without the label—now you just have a name to call them by!
Continue Learning about Depression Diagnosis

Medical and mental health professionals generally do not use blood or brain tests to make their diagnosis of depression and instead rely on a physical examination, family history and questions regarding your depression symptoms. B...
ecause general feelings of sadness, fatigue and lack of interest in everyday activities can accompany many other conditions, including ADD/ADHD, anxiety and bipolar disorder, depression can be difficult to diagnose.
More