Increasing levels of disability do not have to equal depression. A study once compared the "happiness set point" of people who were paralyzed in accidents. Trained professionals observed that within eighteen months of their life traumas, those paralyzed had returned to their previous levels of happiness. Another study looked at the happiness levels of new lottery winners. Within eighteen months of their momentary life "highs," the lottery winners settled back into their original happiness set points as well. If they were happy before, they were happy after. If they were miser able before, they weren't any different after. The key to it all: a long-range coping strategy.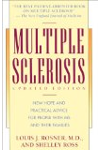 More About this Book
Multiple Sclerosis
Too often, multiple sclerosis is thought of only as "the crippler of young adults." But in fact, 75 percent of all people with MS will never need a wheelchair. In Multiple Sclerosis, Dr. Louis J....
Continue Learning about Depression Causes & Risks

Depression has many possible causes, including grief, trauma, chronic stress and financial troubles. In some instances, it may seem to have no cause at all. Some evidence suggests that factors like genetics, vitamin D deficiencies...
, gender and other medical diagnoses can increase the risk of depression.
More