It's not surprising that the parents of chronically ill children are often sad and upset about their child, but one study found that many moms display symptoms of severe depression and need some respite from their duties to decompress the pressure they feel as overloaded parents. The researchers examined 365 mothers whose children had a variety of conditions, such as asthma, sickle cell anemia, and heart disease. Symptoms of depression were high in the group as a whole, and 20 percent of the mothers felt that being a parent dominated their lives and restricted their freedom. More than half (59 percent) said their children were limited in their daily activities because of their illness. Researchers said that therapists and educators need to help mothers deal with feelings of anger and resentment.
From The Smart Parent's Guide: Getting Your Kids Through Checkups, Illnesses, and Accidents by Jennifer Trachtenberg.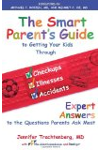 Continue Learning about Depression Causes & Risks

Depression has many possible causes, including grief, trauma, chronic stress and financial troubles. In some instances, it may seem to have no cause at all. Some evidence suggests that factors like genetics, vitamin D deficiencies...
, gender and other medical diagnoses can increase the risk of depression.
More