Silver fillings are not usually placed in front teeth except in certain special situations. Obviously a non-tooth colored filling material will affect the appearance of anterior teeth.

Also most fillings placed on the outside of visible back teeth are done with tooth colored material, rather than silver. Conservative silver fillings in other areas on back teeth (premolars and molars) will often not affect the appearance of the teeth to the public. There are times when a grey tone may occur to the tooth, depending on the size and location of the filling. Of course, the filling itself will be visible when you look in the mirror with your mouth open.

Furthermore, the larger the silver filling and the more surfaces that are involved the greater the chance that the filling will be noticeable and the appearance of the tooth will be affected.

Getting a silver dental filling will change the look of your tooth. Silver fillings, or amalgam fillings, are made with several different metals and are silver-colored. Silver fillings are commonly used on back teeth where they are less visible. However, when you laugh or open your mouth widely, the filling may become visible, as opposed to composite fillings, which match the tooth color. However, silver fillings are more cost-effective and durable than composite dental fillings.
Continue Learning about Dentures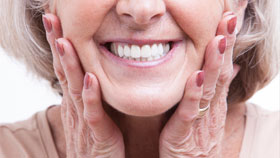 Dentures are false teeth used to replace natural teeth. There are two types of dentures: complete dentures, which can be used for the upper or lower jaw (or both if needed), and partial dentures, which replace only some teeth.