Implant retained dentures are similar to conventional dentures and look the same on the outside of the denture. An implant retained denture will attach to implants in the gums on the inside of the denture. There are attachments on the denture that help hold the denture to the implant giving more retention and stability than a conventional denture. Your dentist may recommend implant retained dentures if you have problems keeping your dentures stable when you eat and speak.
Implant retained dentures will not affect the look of the teeth. The implants are not seen and the benefits are much greater stability in the mouth.

There is a wide range of denture teeth that the dentist can select; some look significantly more life-like. This will change the appearance of the teeth. These newer denture teeth are made of composite similar to what the white fillings with greatly enhanced appearance. They are different from the acrylic teeth commonly used and were designed for implant-retained cases.
No, the look of the denture teeth will be the same as with regular dentures. The main benefit is that you will most likely have improved fit and comfort with the implant-supported dentures.
Continue Learning about Dentures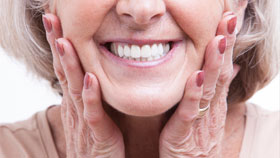 Dentures are false teeth used to replace natural teeth. There are two types of dentures: complete dentures, which can be used for the upper or lower jaw (or both if needed), and partial dentures, which replace only some teeth.