While eating with dentures may take a little practice and require soft foods at first, you should be able to return to your normal diet. Be cautious with hot or hard foods and sharp-edged bones or shells.
You won't have to completely change your diet when you get dentures, but you may have to make some adjustments at first. Eating will probably feel very different once you get dentures, especially if you have complete dentures. When you first get dentures, start with softer foods and avoid anything sharp or crunchy. Because you won't always be able to feel things like bones or sharp foods in your mouth, chew slowly and carefully. You should also chew with both sides of your mouth to make sure dentures don't get crooked. Cut your food into smaller pieces until you get used to chewing with your dentures.
Continue Learning about Dentures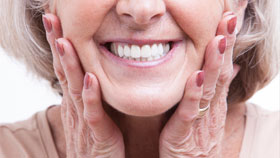 Dentures are false teeth used to replace natural teeth. There are two types of dentures: complete dentures, which can be used for the upper or lower jaw (or both if needed), and partial dentures, which replace only some teeth.