The process of getting overdentures can be painful because you must often undergo root canals and tooth shaping before your overdentures are inserted. Although these procedures are performed using anesthesia to prevent pain, you may feel some soreness afterward. You may also feel some pain as your mouth gets used to the overdenture.

Talk with the dentist about your pain threshold and get recommendations on how to alleviate discomfort. Your dentist may recommend taking a nonsteroidal anti-inflammatory drug (NSAID) or prescribe a pain medication for you to take for a few days.

Continue Learning about Dentures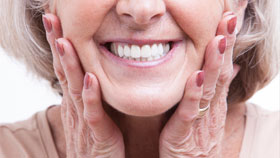 Dentures are false teeth used to replace natural teeth. There are two types of dentures: complete dentures, which can be used for the upper or lower jaw (or both if needed), and partial dentures, which replace only some teeth.