Dentures can certainly affect your appearance. If you have existing dentures and you wish to make changes in them which you feel will affect and improve your appearance, this should be discussed with your dentist prior to start of treatment. Your dentist will review with you the changes possible, if any, and discuss anticipated results when the new dentures are finished. Dentures can help to improve your smile and overall look with the appropriate teeth and restored bite; however, they will not necessarily remove wrinkles and take 40 years off your face.

If you are getting your first denture, it is important to discuss with the dentist how your teeth looked previously with regard to size, shape, spaces and color. Old pictures can often help with this conversation. Explain how you would like your teeth and smile to look, and hopefully your dentist can discuss what seems possible.

Usually your will be able to see how the teeth will look in your mouth prior to completion and final fabrication of the denture. This is the time to make changes and alterations to the appearance of the teeth and denture.

Also, unfortunately some dentures may not result in a natural and/or satisfactory appearance due to a variety of factors. To avoid this evaluate the denture(s) carefully at the try-in visit note above and discuss any concerns thoroughly so that you can achieve maximum satisfaction with your dentures.
Replacing missing teeth will benefit your appearance and your health. Without support from the denture, facial muscles sag, making a person look older. You'll be able to eat and speak -- things that people often take for granted until their natural teeth are lost.
Dentures, or false teeth, can look similar to your natural teeth. Full dentures are used when you have no natural teeth; partial dentures are used to replace one or more missing teeth. Dentures are usually constructed with a metal structure, a gum-colored plastic base, and replacement teeth. Modern dentistry can make dentures appear much more like natural teeth than before.
Continue Learning about Dentures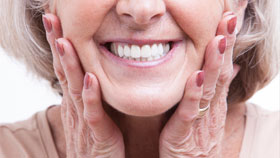 Dentures are false teeth used to replace natural teeth. There are two types of dentures: complete dentures, which can be used for the upper or lower jaw (or both if needed), and partial dentures, which replace only some teeth.