Pronouncing certain words may require practice. Reading out loud and repeating troublesome words will help. If your dentures "click" while you're talking, speak more slowly.

You may find that your dentures occasionally slip when you laugh, cough or smile. Reposition the dentures by gently biting down and swallowing. If a speaking problem persists, consult your dentist.
Wearing dentures may change the way you speak. Dentures are false or artificial teeth that are used to replace missing teeth. After you receive dentures, you may find that you pronounce certain words a bit differently. The American Dental Association recommends practicing troublesome words by repeating them until you feel more confident that you can say them correctly.
Continue Learning about Dentures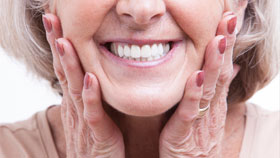 Dentures are false teeth used to replace natural teeth. There are two types of dentures: complete dentures, which can be used for the upper or lower jaw (or both if needed), and partial dentures, which replace only some teeth.