The Cu-sil elastomeric gasket itself is usually comfortable, even though gingival irritation and some inflammation may occur.

The denture itself should be adjusted at delivery with pressure indicator paste in an effort to minimize sore spots. Also since Cu-sil retained dentures are not supported by the teeth, but rather the gums, the denture may settle into the gum tissue. This may result in the plastic causing pressure on a new area of the gum creating a sore area that requires adjustment.
Cu-Sil partial dentures usually do not hurt. Cu-Sil partial dentures fit around your existing teeth and require neither root canals nor metal attachments. Therefore, having them put in is nearly painless.

Continue Learning about Dentures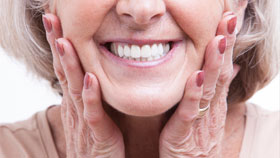 Dentures are false teeth used to replace natural teeth. There are two types of dentures: complete dentures, which can be used for the upper or lower jaw (or both if needed), and partial dentures, which replace only some teeth.