Over time, dentures can break and teeth can pop off. The jaw can shrink making the dentures less well fitting or loose. In some cases, dentures can be easily repaired. If the denture becomes loose or ill-fitting, the denture may have to be remade.
Over time, dentures will need to be relined, rebased, or remade due to normal wear. To reline or rebase a denture, the dentist uses the existing denture teeth and refits the denture base or makes a new denture base. Dentures may need to be replaced if they become loose and the teeth show signs of significant wear. Dentures become loose because a mouth naturally changes with age. Bone and gum ridges can recede or shrink, causing jaws to align differently. Shrinking ridges can cause dentures to fit less securely. Loose dentures can cause health problems, including sores and infections. A loose denture also makes chewing more difficult and may change your facial features. It's important to replace worn or poorly-fitting dentures before they cause problems.
Continue Learning about Dentures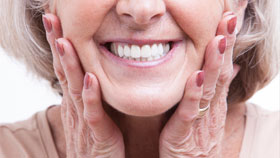 Dentures are false teeth used to replace natural teeth. There are two types of dentures: complete dentures, which can be used for the upper or lower jaw (or both if needed), and partial dentures, which replace only some teeth.