Most likely, you will have a post-op appointment shortly after the Cu-Sil denture has been delivered. This allows the dentist to evaluate your progress, check for sore areas, and make any adjustments.

Often if time has been taken at the denture delivery appointment to eliminate pressure areas and to fit the denture, you will not need to call the dentist, as you will have scheduled an appointment for follow-up. This appointment should be kept even if everything feels fine. You may not feel or be aware of an area that needs adjustment until it gets worse. Then you would need to make that call.

Call your dentist after getting Cu-Sil partial dentures if the dentures are uncomfortable or feel as if they do not fit correctly.

Call your dentist immediately if you have any signs of infection, such as pain or a toothache, swelling or redness in the gum area, fever, and swollen glands in your jaw or neck.

Call your dentist if you feel generally ill after getting Cu-Sil partial dentures.

Continue Learning about Dentures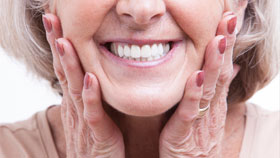 Dentures are false teeth used to replace natural teeth. There are two types of dentures: complete dentures, which can be used for the upper or lower jaw (or both if needed), and partial dentures, which replace only some teeth.