Actually, unless you are having a problem with excessive bleeding or intolerable discomfort, fever or facial swelling, you should not necessarily have to call your dentist. With immediate dentures your dentist should see you within 24-48 hours after denture delivery to remove the denture, evaluate initial healing of extraction sites and make any necessary adjustments for sore spots and to even the bite. Depending on how you are progressing, your next post-op usually would be scheduled within a week. Further evaluation and adjustments would be made at that time, and future appointments would be made at appropriate intervals.
If you are experiencing any discomfort, you should call your dentist so that he can adjust your denture.
Call your dentist or oral surgeon you experience excessive bleeding or severe pain from the tooth extractions you had before the immediate dentures were put into place.

Call your dentist immediately if you have any signs of infection, such as pain or a toothache, swelling or redness in the gum area, fever, and swollen glands in your jaw or neck.

Call your dentist if you feel generally ill after getting immediate dentures.

Call your dentist or oral surgeon if the immediate dentures are uncomfortable or feel as if they do not fit correctly.

Immediate dentures usually need to be adjusted at least once as your mouth heals.
Continue Learning about Dentures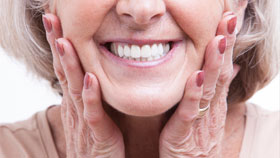 Dentures are false teeth used to replace natural teeth. There are two types of dentures: complete dentures, which can be used for the upper or lower jaw (or both if needed), and partial dentures, which replace only some teeth.