Tell your dentist and hygienist to use only plastic instruments around the implants when cleaning them and make sure the denture attachments are secure. Over time, denture attachments can loosen and may need to be replaced.
Continue Learning about Dentures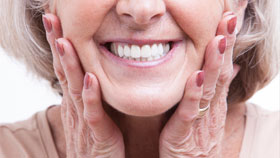 Dentures are false teeth used to replace natural teeth. There are two types of dentures: complete dentures, which can be used for the upper or lower jaw (or both if needed), and partial dentures, which replace only some teeth.