Your dentist needs to know about your overall health before starting the work for overdentures. Tell you dentist if you are pregnant or think you might be. Dentists generally recommend avoiding any dental work during the first trimester. Dental anesthesia at any time during pregnancy may cause problems for an unborn baby. Tell you dentist if you have heart disease, diabetes, high blood pressure, a bleeding disorder, asthma, or any other illness. Also tell your doctor about all the drugs you take, including supplements and over-the-counter medications. Be sure to tell you dentist if you have any drug allergies.

Continue Learning about Dentures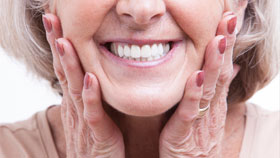 Dentures are false teeth used to replace natural teeth. There are two types of dentures: complete dentures, which can be used for the upper or lower jaw (or both if needed), and partial dentures, which replace only some teeth.