With the placement of any implant, "look before you leap" is key.
There must be adequate bone, adequate density of bone, and no anatomic structures (like nerves or blood vessels) in the way. (The exception to that is sinuses -- there are procedures that can get those out of the way.)
If the implant is placed in an area mentioned above, it may fail to integrate into the bone (and the implant will be lost)
If the implant isn't aligned correctly, it may be much more difficult to get the denture to grab onto it
The components (O-rings) in the denture must be replaced periodically
The patient shouldn't just bite the dentures into place (because it can damage the O-rings)
Having said all that...usually, the benefits of implant dentures outweigh the risks. Patients that had difficulty wearing dentures may have success with the ones that sit on the implants.
Continue Learning about Dentures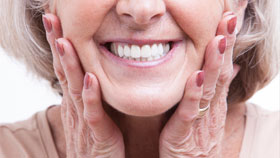 Dentures are false teeth used to replace natural teeth. There are two types of dentures: complete dentures, which can be used for the upper or lower jaw (or both if needed), and partial dentures, which replace only some teeth.