New dentures may cause problems for the first few months of wearing them. It takes a while for your mouth to adjust to holding dentures in place, especially if you're new to complete dentures. Because of this, your dentures may slip or move, especially while eating, talking, laughing, or coughing. You may also experience some minor gum irritation or soreness in your mouth for the first few months as your gums get used to the contact of dentures. At first, you'll likely have some difficulty speaking and eating, but these skills will improve with practice. Talk to your doctor if you're concerned about any problems that occur within the first few months of getting new dentures.
Continue Learning about Dentures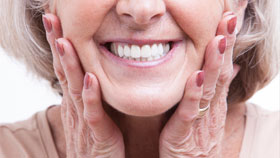 Dentures are false teeth used to replace natural teeth. There are two types of dentures: complete dentures, which can be used for the upper or lower jaw (or both if needed), and partial dentures, which replace only some teeth.