You should discuss with your dentist your wants, needs and desires concerning your dental treatment. This should be done prior to any treatment plan, so that appropriate treatment options can be developed and presented for your consideration.

When treatment is presented, you will need to decide if you feel comfortable with the diagnosis of your oral health, the prognosis of your teeth and if you are satisfied with the proposed treatment, in this case a Cu-sil retained denture. You should "tell" and discuss with your dentist any concerns, ask any questions and then say "yes" or "no" regarding treatment. Tell the dentist everything that you think you should, so that he or she can help you in a manner that is acceptable to both you.

Check my other answers concerning Cu-sil for further information to help in decision making.
Before you get Cu-Sil partial dentures, since you may require anesthesia, be sure to tell your dentist if you are pregnant or if you have heart disease, high blood pressure, diabetes, a bleeding disorder, or any other illness. Tell your dentist about any drugs you take, including over-the-counter medications and supplements. Be sure to tell your dentist about any drug allergies you may have.

Continue Learning about Dentures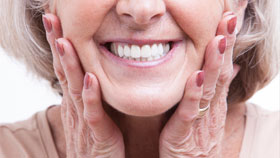 Dentures are false teeth used to replace natural teeth. There are two types of dentures: complete dentures, which can be used for the upper or lower jaw (or both if needed), and partial dentures, which replace only some teeth.