For patients who struggle with poor or loose fitting dentures, an implant supported denture can be a signifcant improvement. Depending on the patients situation, I may recommend one of two types of implant systems.

The first option involves placing 4-6 conventional sized implants in each arch with the denture being permanently attached to the implants. This system offers the most stability and function. The following link provides more information: http://www.nobelsmile.us/en_us/upgrading-dentures/default.aspx

The second option involves placing 4-6 mini sized implants in each arch with the denture being supported by the implants. The patient is able to remove the denture. This option is not as stable as the first one, yet it is more economical. The following link provides more information: http://solutions.3m.com/wps/portal/3M/en_US/mymdistory/mdi/

Ask your dentist if an implant supported denture is right for you.
Implants are commonly used to stabilize and support dentures. If a patient had to lose all of his/her teeth due to gum disease, we would typically recommend placing at least 2 implants in the jaw. Small attachments (Locator Attachments) go on to the implant and snap into the denture. This helps the denture to stay put while in function and is also much more comfortable to wear. Even more importantly, the implant helps to preserve the bone it is placed in. Most patients are amenable to having implants placed in the lower jaw, since this is the arch that has the least amount of bone. Stability of the lower denture can be aided by the placement of only 2 implants!
For those who have lost or are about to lose all of their upper and/or lower teeth, an implant-supported fixed dental restoration comes as close to having a new set of permanent teeth as is currently possible. A complete set of beautiful upper or lower teeth (called a fixed hybrid restoration or fixed hybrid denture) can be immediately fixed on four or more dental implants that have been securely anchored in the jaw. The specialized implants are designed for immediate function and typically eliminate the need for bone grafting. As in the case of a removable denture, the hybrid restoration supplies both new prosthetic teeth and gum tissue.

This procedure provides a permanent functional dental restoration with unsurpassed esthetics, resulting in a dramatic quality of life improvement for patients. Because the fixed hybrid restoration does not cover the palate of the mouth, patients are better able to enjoy the taste and temperature of foods. If you still have a few of your natural teeth, they will be removed in the same surgery as the placement of the implants, and on the same day that your new fixed restoration will be secured on the implants. The entire process, including any necessary extractions, can be completed in one day, typically using I.V. sedation, with minimal recovery time. In my practice, patients receive a provisional fixed hybrid dental restoration on the day of surgery, and this provisional restoration is replaced by a permanent restoration approximately three months later.

During the time the provisional is worn, the function and appearance of the restoration are observed and fine-tuned so that when the permanent restoration is fixed on the implants, it meets all expectations. The immediate delivery of an implant-supported hybrid restoration is an advanced procedure that is typically performed by a qualified interdisciplinary team, including an experienced Dentist, Implant Surgeon and Dental Technician.

The procedure is variously referred to as "all-on-four dental implants," "all-on-four dentures," "one day teeth replacement," and often in dental marketing as "same day smile" or "smile in a day."
Implant retained dentures are dentures that have been made in conjunction with implant surgery to have some sort of attachment (usually a "snap-fit") to the implant. This stabilizes the denture and eliminates a lot of the looseness and movement of a denture that causes "sore spots" and limitations in chewing ability.

There are usually a minimum of two and more often four implants needed to anchor a full denture without risking a loosening of the implants themselves. The specific configuration of number of implants, type of attachments and coordination of treatment is something to be worked out with the dentist performing the denture treatment and often a specialist performing the implant surgeries and the patient themselves. Everyone involved should be in full communication ahead of time to develop a coherent treatment plan that covers procedures, order of treatment, cost and time involved from start to finish as this can be a lengthy procedure.
Dentures can either be retained through the natural anatomy of your mouth and the suction it creates, or they can be retained by natural tooth roots (if you have them). If you are missing all your teeth and have implants placed, the implants serve to help retain and stabilize the dentures in your mouth. With better retention and stability, implant overdentures are a much better option than conventional dentures. They also help maintain bone, which helps maintain your facial structure and appearance. Not to mention they help you eat better
Dental implants are posts that are surgically placed in the upper or lower jaw, where they function as a sturdy anchor for replacement teeth. If you are missing all of your teeth, an implant-supported denture can replace the missing teeth and some of the tooth roots. Because the dental implants integrate with the jawbone, an implant-supported denture tends to be comfortable and stable, allowing you to bite and chew naturally.
Continue Learning about Dentures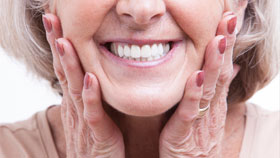 Dentures are false teeth used to replace natural teeth. There are two types of dentures: complete dentures, which can be used for the upper or lower jaw (or both if needed), and partial dentures, which replace only some teeth.